The Dog In the Room
Date posted
February 4, 2022
GPCA's Service Dog Castiel "Cas" Crabtree
Since Spring of 2021, Castiel Crabtree aka Cas, has been escorting his owner to work at the GPCA Offices and to events.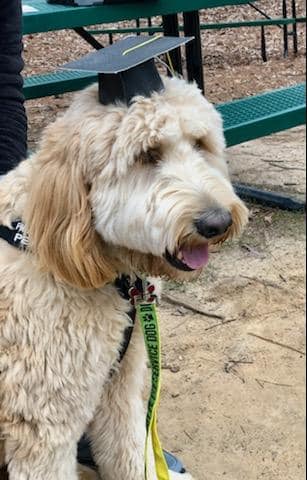 "I am so fortunate to work in an office that follows the law and allows Cas to come with me everywhere I need to be for work," owner Lydia Crabtree said.
Cas is Lydia's second Service Dog. Her first service dog was named Alice. Alice was a lab mix that served her for nearly 8 years before dying of cancer before Lydia started at GPCA.
"When the opportunity came up to replace Alice with another dog because of a grant from the Malinois Foundation working with Dog Training Elite of North Georgia, I was thrilled and apprehensive," Lydia continues, "Even though it is the law that my service dog can be with me everywhere not all businesses are willing to uphold that law. Some places I have worked deemed my dog, 'unprofessional.' Even though Alice, and now Cas, have had extensive training making them very well behaved dogs."
The Board, previous Executive Director, and current Executive Director didn't find Cas to be "unprofessional" at all. 
"Lydia is an asset to GCPA, and as such, Cas is an asset.  He makes it possible for Lydia to safely do her job, and we appreciate his presence in the office and onsite at events."
How to Behave Around a Service Dog
The biggest struggle of having a service dog like Cas is that people don't know how to behave around something so cute and fuzzy.
"Sometimes people do not realize that Cas is performing a service. He is actively working all the time," Lydia said. "They call to him or make kissy noises at him and this distracts him from his job." 
Cas should be focused on Lydia and watching her for signs that he needs to spring into action. So when people see a service dog, as hard as it can be, the polite thing to do is to ignore the dog and deal only with the handler. 
"It seems counterintuitive, I know, to ignore something as cute as Cas, but that helps him continue to do his job for me without interruption," Lydia said.
Service Dog Etiquette is that you ask the handler if it is okay for you to address, speak, pet, or otherwise engage with the service dog. 
"When people ask me if they can engage with Cas it gives me a chance to reward his behavior for being so good and focused. I will ask him, 'Cas do you want to make friends?' and point to the person who has asked. He will usually get excited, wag his tail, and run to them," Lydia said.
In fact, you may have never noticed, but Cas's vest gives vital information about Lydia's condition and how to respond to that condition should it arise.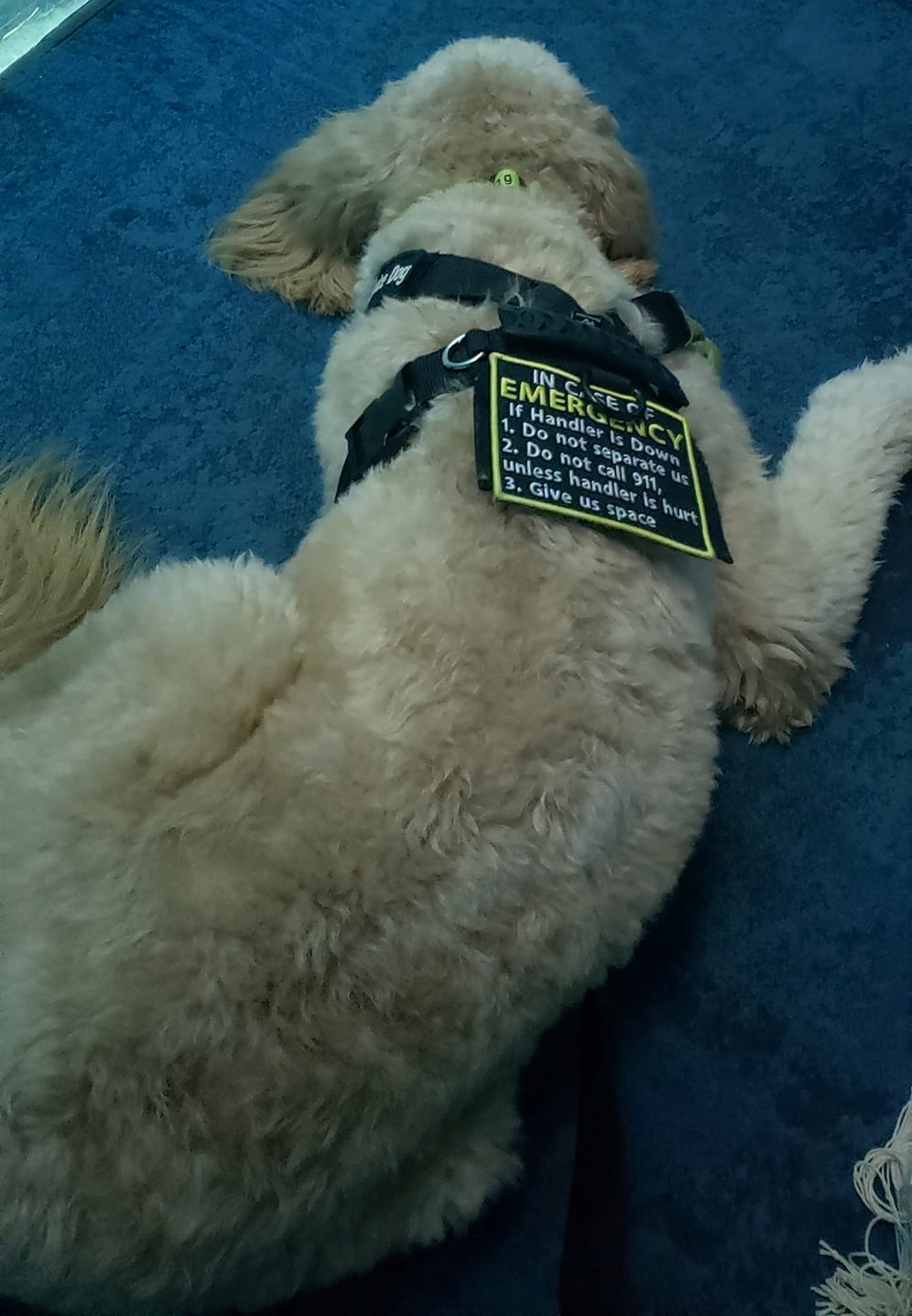 "Yea, the vest says, 'If the handler is down, do not separate handler and dog, do not call 911 unless the handler is obviously hurt, give handler and dog space.' My condition is scary to witness but ultimately a medical inconvenience and one that Cas is trained to appropriately respond to," Lydia said. 
The advice Lydia has to give about how to approach someone with a service dog is simple. 
Ignore the Dog
Never ask someone why they have a service dog and never assume the dog is in training, both can be insulting to the handler
Deal only with the handler
Ask to pet, approach, or engage with the dog
"I have ordered a custom vest for Cas that should come in sometime Summer of 2022 that will be much easier to read and clearly labeled. I think this will also help people realize that Cas is not the GPCA mascot but a valued team member with an important job to play," Lydia said.