In Memoriam: Rachel Williams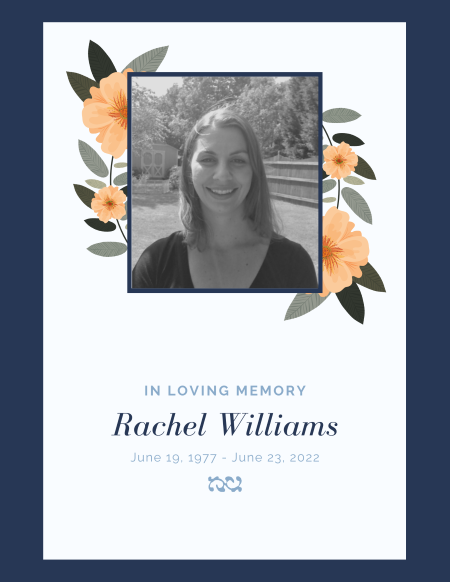 Rachel Williams, a daughter, friend to everyone, confidant, and extraordinary human, passed away June 23rd at the age of 45 in Cumming, Georgia, after a long illness with cancer.

Rachel was born on June 19th, 1977 (Father's Day) in Phoenixville, Pennsylvania, to James and Patricia Anderson, and eventually settled in Georgia, where she made her home and many, many friends.

In 2005, she married the Love of her Life, Eric Klodt, and they had 17 wonderful years together.

Rachel was a Georgia State Alumnus and could make lifetime friends wherever she went. She had the rare ability to listen to her friends and was a wonderful confidant who could always be trusted and could always keep a secret.
She was a loving daughter, sister, and aunt who always made time for her best friends and cherished every minute spent with family.

Her career as an Account Executive and Program Manager at McGriff Insurance Services spanned 20 years. Her strength was in developing strong relationships with her clients and her ability to understand the unique needs of each of her clients.

She is survived by her loving husband, Eric Klodt, both parents, James Anderson and Patricia Williams, her sister Jennifer Young, and her niece Rose Young.