Back to Events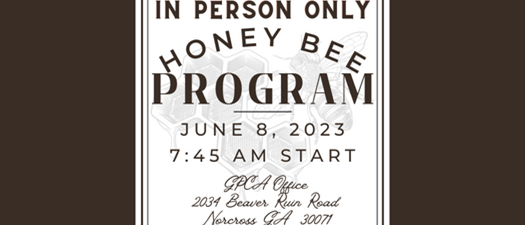 2023 Honeybee Program
8 hrs of training for those who are pursing a Honeybee License
4 hrs HPC
Thursday, June 8, 2023
Event Details
How to register:
If you already have a login please login to the website and then you should be able to register with the yellow register now button that appears above.
If you do not have a login follow these instructions:
1) Click "Join" at the top right-hand corner of this page or by clicking here.
2) Complete the profile by following the instructions on the Create Account page.
3) Verify that you are not a robot.
4) Verify your email address. If you don't see the email in your inbox, check your junk folder.
5) login using your new username which is your email address and the password that you set up during the creation process.
6) Come back to this page and click the register now button in yellow above.
If you get stuck or need help call us at 770-417-1881.
Event Information:
This is an in-person-only event for those who are pursuing a Honey Bee license. This is a State of Georgia requirement through the Georiga Structual Pest Control Act.
The event will be held at the GPCA office, 2034 Beaver Ruin Rd., Norcross, GA 30071. You must stay for the entire time to receive the required 8 hours training certificate. Also approved for 4 hours of HPC credit.
Pizza lunch will be provided.
Registration ends June 7th at 10 a.m.
Agenda:
8:00 a.m.
Introduction
Dr. Dan Suiter, Department of Entomology, University of Georgia, Griffin, Georgia
8:05 a.m.
Honey Bee Biology (via Zoom)
Dr. Keith Delaplane, Department of Entomology, University of Georgia, Athens, Georgia
9:05 a.m.
Relevant State and Federal Laws, Safety Precautions
Ms. Ali Ikner and Mr. Tim Taylor, Georgia Department of Agriculture, Atlanta, Georgia
10:15 a.m.
Break
10:30 a.m.
Non Honey Bee Pollinators
Ms. Rebecca Griffin, Center for Urban Agriculture, University of Georgia, Blairsville, Georgia; Coordinator, Great Georgia Pollinator Census
11:30 a.m.
Types of Honey Bee Removals and Basic Removal Techniques
Karen Palmer, Honey Bee Please, LLC, Swainsboro, Georgia
12:30 p.m.
Lunch
1:30 p.m.
Trap Out Techniques and Negative Consequences of Leaving Honey, Pollen and Brood in a Structure
Karen Palmer
2:30 p.m.
Eradicaton versus Relocation Including Common Insecticides and Pesticides Applied to Honey Bees
Bobby Chaisson, Operations Director, Georgia Bee Removal, Lula, Georgia
3:30 p.m.
Break
3:45 p.m.
Cut-Out Removal Techniques Including Basic Construction Knowledge, Recommended Tools, Finding and Caging the Queen, Preventing Future Infestations, Saving Comb and Hiving Bees
Bobby Chaisson
5:00 p.m.
Class ends
Download Agenda
For More Information: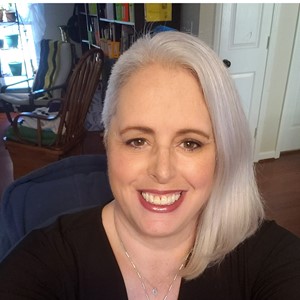 Lydia Crabtree
Communication Coordinator
(770)417-1881
Additional Offices that are available to take the class.
Space is limited. You must call their office to reserve a seat.
Extension Offices hosting Honey Bee Removal Class
June 8, 2023
8am-5pm
Preregistration required for all offices(call phone number to register)
Habersham Extension (Max 35)
555 Monroe St
Suite 50, Box 13
Clarkesville GA 30523
Our office is behind Woods Merchantile and the old courthouse in downtown Clarkesville in the Agriculture Service Center.
Cost: $15 lunch provided
Jackson County Extension
255 Curtis H Spence Drive
Jefferson, GA 30549
Uge1157@uga.edu
(706)367-6344
Cost: $10 includes snacks and drinks; please bring your lunch
Coweta County Extension (no max)
255 Pine Road
Newnan, GA 30263
770-254-2620
Cost - $25/person. Lunch/Snacks included
Putnam County Extension (Max 25)
663 Godfrey Road
Eatonton GA 31024
706-485-4151
No cost. Snacks and drinks provided. Bring a brown bag lunch or fast food options around office.
Harris County Extension (Max 85)
121 North Old College St.
Hamilton, GA 31811
706-628-4824
Cost: $15.00 – Includes snacks, soft drinks, water and coffee; Lunch on your own
Bartow Extension – Stiles Auditorium (Max 40)
320 W. Cherokee Ave., Rm. 112
Cartersville, GA 30120
770-387-5142
Lunch on Your Own
Monroe County Extension (Max 25)
484 HWY 83 S
Forsyth, GA 31029
478-994-7014
Cost: $20 – includes lunch
McDuffie County Extension (Max 15)
337 Main St Room 108
Thomson GA 30524
706-595-1815
Cost: $25 includes lunch
Macon-Bibb Extension (Max 96)
715 Oglethorpe St
Macon, GA 31201
478-751-6338
Cost: $25 includes snacks and lunch
Athens-Clarke County Extension (Max 25)
275 Cleveland Road
Bogart GA 20622
706-613-3640
Cost: $15 includes snacks and coffee; lunch on your own
Greene County Extension (Max 15)
1180 C. Weldon Smith Drive Suite 110
Greensboro Ga 30642
706-453-2083
Cost: $20.00 includes lunch and materials.
GPCA's Cancellation Policy-
https://www.gpca.org/cancellation-policy

Total event refunds will be made if cancellation is received in writing via email 40 days prior to the event.
Cancellations received 39 days to 25 days prior to the event will receive a refund minus a 25% cancellation fee.
Cancellations received 24 days or sooner before the event will not receive a refund unless they have a doctor's excuse. The doctor's excuse will give them a 25% refund.
No refund will be given for no-shows.